GRAWE 2020 - Balance Sheet
12. May 2021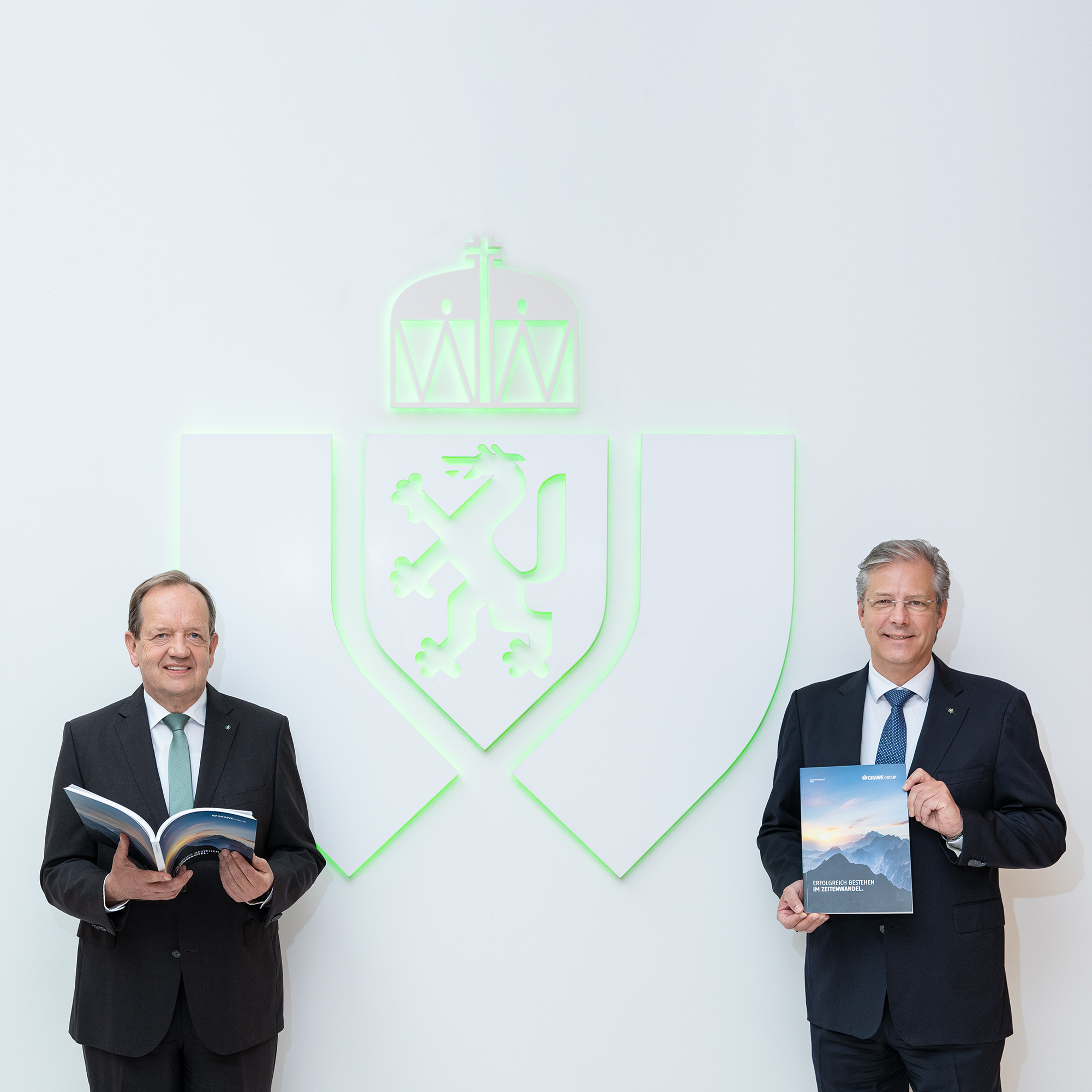 Solid growth in the GRAWE Group
GRAWE Austria as the best insurance throughout Austria
Corona aid and more insurance payouts due to the crisis
Planned merger in the banking sector and implementation of real estate projects
---
Long-term growth despite challenging times
In the past year, our companies have been called upon to adapt their work processes to the current, challenging situation and to reorganise their
in-house processes and the contact to customers and business partners accordingly. In times of lockdowns, it is impossible to imagine business operations without working from home, telephone and video conferences, e-communication and webinars. In addition to the increased need for flexible and digital solutions, demonstrating stability and reliability was also required.
The GRAWE companies have always opted for a safety-oriented and foresighted business strategy that involves taking responsible, sustainable decisions whilst also seeing every change as an opportunity. We see the COVID-19 crisis as an opportunity in that it has accelerated the implementation of digitalisation projects and thus driven forward an even better and more modern company performance. Looking back at 2020, we can record that GRAWE was able to develop further in the past financial year and even emerge with renewed strength from the COVID-19 crisis. Despite all the challenges, it continues to be on a course of constant and sustained growth.
Facts and figures for 2020
This long-term growth at GRAWE is also reflected in the current figures. In 2020, GRAWE AG increased its premium income by 3.3% to EUR 649.8 million and its profit by 8.3% to EUR 65.2 million. Insurance payouts in the fire and non-life insurance divisions increased by 27.9% compared to the previous year; in the business interruption insurance this was due to the crisis, in the storm division to the growing number of weather events and in the fire insurance to some large-scale claims. The performance of the GRAWE Group shows premium growth totalling 4.5% to EUR 992.6 million. Its profit in the insurance, banking and real estate sector totalled EUR 122.4 million.
GRAWE Austria as the best insurance throughout Austria
In addition, GRAWE was once again presented with the "Recommender Award" of the Financial Marketing Association of Austria (FMVÖ) last year. It won anew in the category "Insurances throughout Austria" and it was also given the highest seal of quality with the rating "Excellent customer orientation". Mag. Klaus Scheitegel, CEO of GRAWE Austria, explains in this regard: "This proves that our high standards with regard to the care of our customers and to the quality of our products and services are paying off. In the current situation, we are also focusing particular attention on accompanying our customers through the current crisis and on being on hand to assist them as a strong and reliable partner."
Acquisition of insurance companies in south-eastern Europe
A gratifying highlight of last year is the expansion of the GRAWE Group once again to include two new members. The successful integration of our insurance subsidiary, GRAWE osiguruvanje nezivot Skopje, which was acquired in North Macedonia in 2019, was followed in 2020 by the acquisition of Eurolink Insurance Inc. Skopje, which is also domiciled in North Macedonia. In addition, Montenegro-based Swiss Osiguranje Podgorica was taken over by GRAWE and now operates as GRAWE neživotno osiguranje Podgorica in its business transactions. Dr. Othmar Ederer, CEO of GRAWE-Vermögensverwaltung, adds: "With these acquisitions, GRAWE has not only entered the motorised vehicle and non-life insurance business in Montenegro, it has also expanded its range of services in this regard in North Macedonia where it has advanced to become the clear market leader."
GRAWE banks and real estate
The institutions of the GRAWE banking group provided their customers with very intensive support over the past year and accompanied them through this challenging time. In the process, the focus of our activities was on the rapid processing of state COVID-19 aid measures, deferments and prolongations of loans, and the development of individual solutions to problems. In addition, within the GRAWE banking group, the merger of Bankhaus Schelhammer & Schattera, the oldest private bank in Vienna, with Capital Bank, which has its registered office in Graz, is planned before the end of the year, meaning that these two institutions which are highly successful in the private banking segment will be brought together under one joint brand.
In the past year, the GRAWE real estate group was able to successfully complete the "East" construction project in Conrad-v.-Hötzendorf-Straße in Graz. Around 130 apartments were already handed over to the tenants in the spring. Three hundred and twenty apartments and social amenities are currently under construction on the former Reininghausgründe in Graz. These two projects are characterised by outstanding inner city infrastructure and accessibility by public transport.
Summary and thanks
Overall, GRAWE can once again look back at a continuously positive and stable development in the 2020 financial year. It is thus continuing to prove itself as a corporate group that operates in a sustainable manner and generates constant growth.According to the two CEOs, "such a result would not have been possible without the trust and commitment of our employees,our managers, our long-standing partners and our customers and we owe them our special and sincere thanks."
Download:
Annual Report 2020 - short version
Photo: Dr. Othmar Ederer, Chairman of the Board of GRAWE-Vermögensverwaltung and Mag. Klaus Scheitegel, General Manager of GRAWE (© GRAWE/Ralph König)
---
Enquiries:
Mag. (FH) Karin Taferner-Bauer | Head of Corporate Communication and Marketing | Grazer Wechselseitige Versicherung AG | Tel.: 0316/8037-6430 | E-mail: karin.taferner-bauer@grawe.at