GRAWE 2018 - Balance Sheet
07. May 2019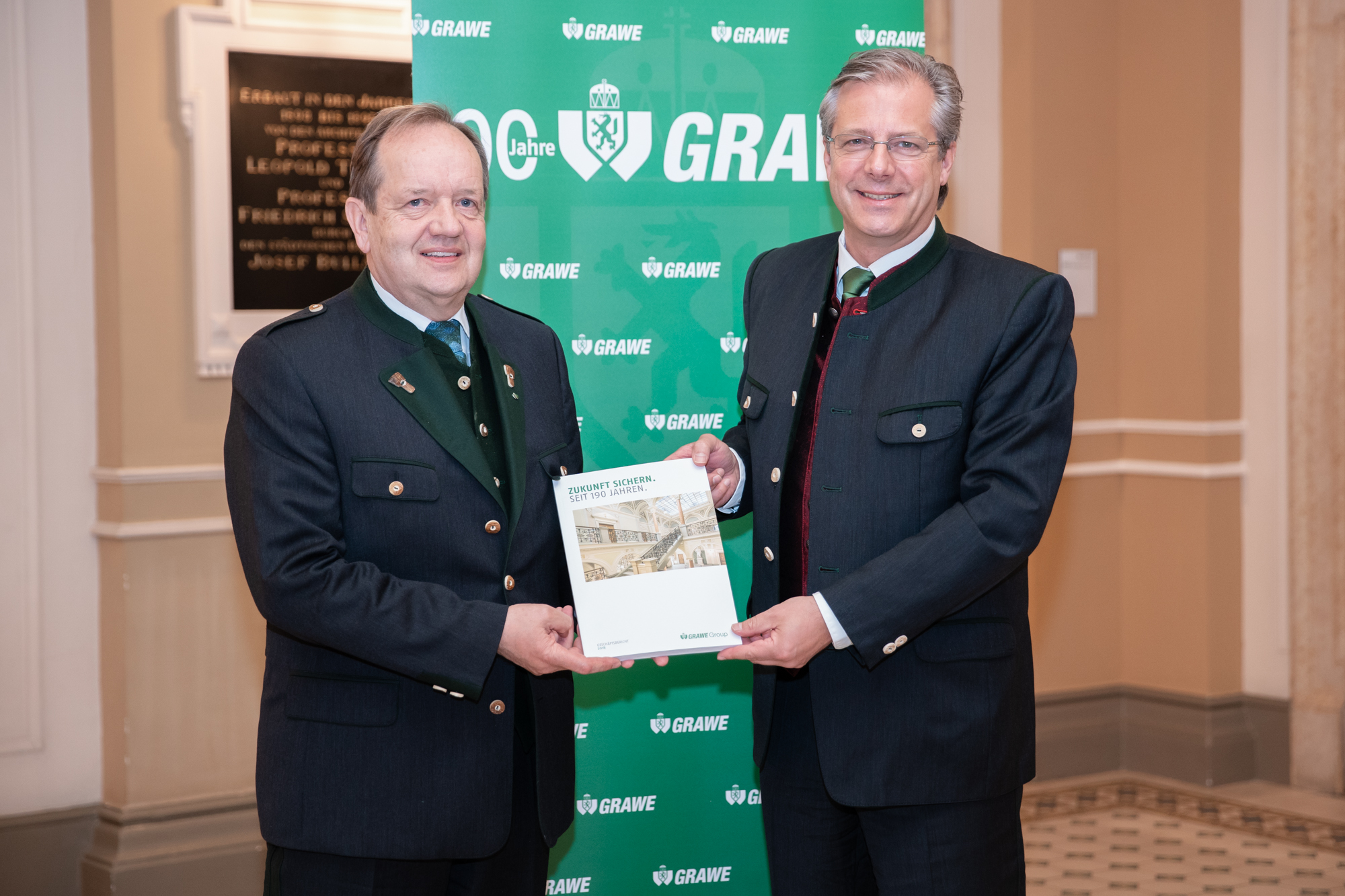 Sustainable growth needs a solid foundation. Expertise, conscientiousness and foresight have been the key to success at GRAWE for over 190 years now. What gives this business model its dynamic strength is the courage to enter new territory, coupled with the willingness to adapt to changes in the environment and to readjust. GRAWE has set itself the aim of taking an active hand in promoting future developments. As before, it is our highest priority to be a stable and reliable partner for our customers.

We secure the future.
GRAWE has been growing sustainably since it was founded over 190 years ago. In the 2018 financial year GRAWE AG increased its total premium income by 5.0% to EUR 588.2m. Premium growth in non-life and accident insurance was up 5.7%, and we recorded a 2.6% rise in life insurance. Our contract portfolio increased by 1.3% to 2,240,974 contracts during the last financial year. Earnings before tax (result from ordinary activities) grew by 17.2% in 2018, reaching a total of EUR 70.0m.
We protect values.
By applying a sustainable and conservative investment strategy, we ensure that when a customer's money is entrusted to us, it is invested safely, yet also profitably. Around 60% of the GRAWE AG portfolio and around 80% of the GRAWE Group portfolio therefore comprises fixed-income securities and properties that are stable in value. In total, capital investments of the GRAWE Group grew by 3.9% to EUR 5,091.7m in the last financial year.
We maintain trust.
GRAWE focuses primarily on the needs of its customers and on gaining their trust. We have secure capital resources and an excellent level of financial stability. The equity ratio of GRAWE AG continued to rise in 2018, reaching 22.2%. The degree of solvency at GRAWE AG as per 31 December 2018 was 331% – clearly higher than stipulated under statutory regulations (Solvency II), whilst also showing that special stability which has characterised GRAWE since its very beginning.
We generate growth.
GRAWE employs a workforce of over 4,600 in 13 countries in Central, Eastern and South-Eastern Europe, thus combining a wide range of different skills, languages and cultures. In the 2018 financial year the GRAWE Group generated EUR 161.1m earnings before tax (result from ordinary activities), 0.5% more than the year before. Premiums written by the GRAWE Group increased by 5.4%, reaching EUR 893.0m. Around 37% of its entire premium income came from GRAWE insurance subsidiaries in Central, Eastern and South-Eastern Europe.
We transcend borders.
GRAWE continued to successfully implement its growth strategy during the last financial year. In particular, it succeeded in integrating Atos osiguranje with its head office in Bijeljina (Bosnia Herzegovina) as a new member of the GRAWE Group. At the same time GRAWE AG expanded its spectrum, adding GRAWE LIFEPROTECT. This latest insurance product in the market has closed yet another gap by minimising the consequences of different levels of occupational incapacity or disability.
The GRAWE 2018 financial year at a glance:
Earnings before tax (result from ordinary activities) of GRAWE AG increased by 17.2% to EUR 70m in 2018
As per 31 December 2018 the degree of solvency (Solvency II) at GRAWE AG was 331%
The equity ratio of GRAWE AG (22.2%) continued to rise in 2018
Compared with the previous year, the result from ordinary activities of the GRAWE Group increased by 0.5% to EUR 161.1m
In 2018 the GRAWE Group employed a workforce of over 4,600 in 13 countries in Central, Eastern and South-Eastern Europe
Photo: Dr. Othmar Ederer, Chairman of the Board of GRAWE-Vermögensverwaltung and Mag. Klaus Scheitegel, General Manager of GRAWE (© GRAWE/Ralph König)
---
Enquiries:
Mag. (FH) Karin Taferner-Bauer | Head of Corporate Communication and Marketing | Grazer Wechselseitige Versicherung AG | Tel.: 0316/8037-6430 | E-mail: karin.taferner-bauer@grawe.at