GRAWE 2017 - Balance Sheet
18. May 2018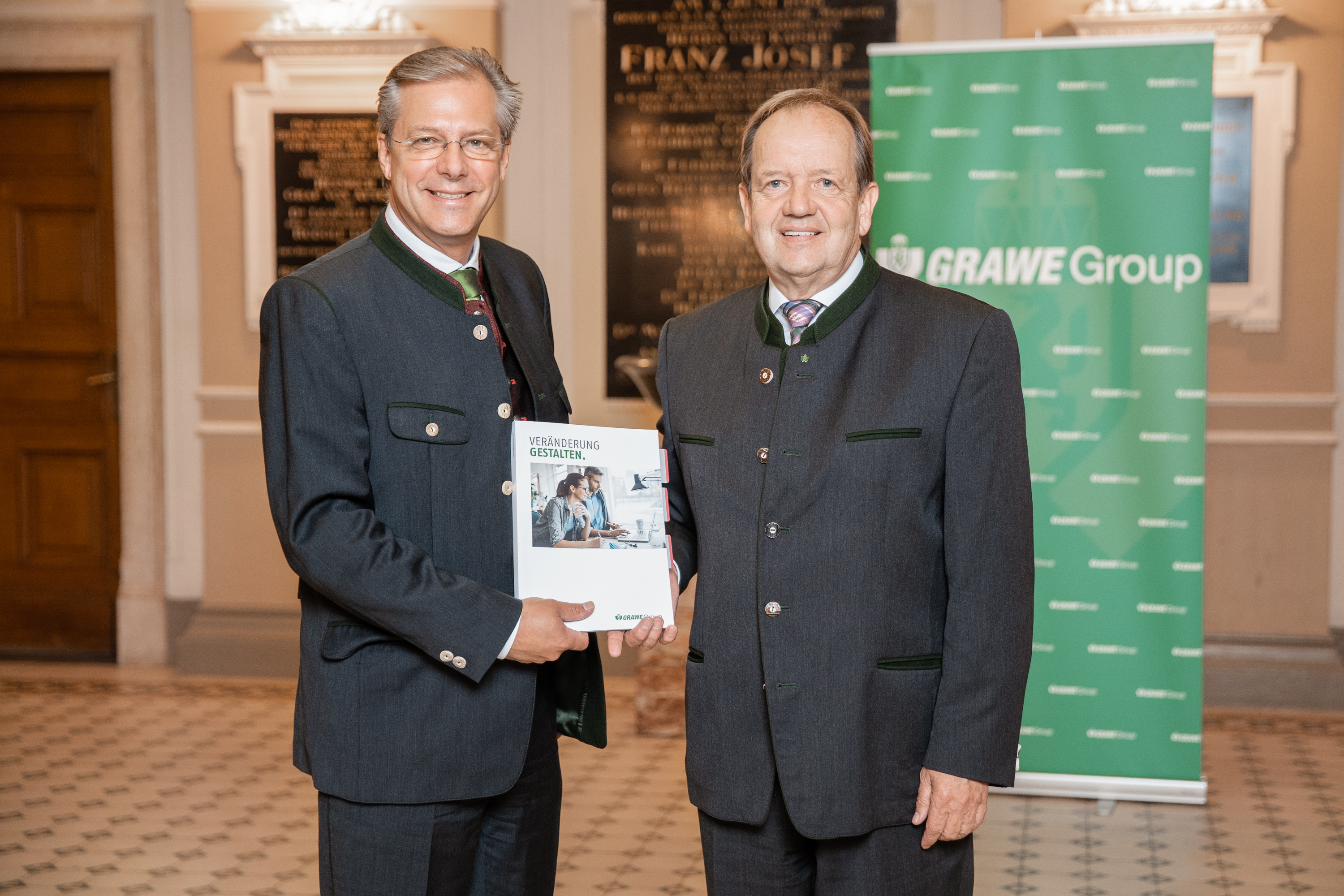 We shape dynamics.
GRAWE has undergone a dynamic development since it was established 190 years ago. In the 2017 financial year, total income from premiums at GRAWE AG increased by 3.6% to EUR 560.4 million. Growth in premiums in non-life insurance was 4.9%; in life insurance, however, there was slight decline of 0.2%. This reduction is entirely attributable to a reduction in the area of single premiums. In contrast, a growth in premiums for policies with ongoing premiums was also generated in 2017 again. The portfolio of policies was increased by 2.2% to 2,212,990 policies in the past financial year. Pre-tax profits (result from ordinary activities) grew by 2.6% in 2017 and thus reached a figure of EUR 59.7 million.
We shape security.
With a stable and sustainable investment strategy, we ensure that the client funds entrusted to us are invested securely but at the same time in a manner that maximises yield. Accordingly, just under 60% of the portfolio of GRAWE Austria and more than 70% of the portfolio of the GRAWE Group comprises fixed-income securities and properties with a stable value. Overall, the investments of the GRAWE Group grew by 3.8% to EUR 4,901.1 million in the past financial year.
We shape stability.
For GRAWE, the focus is on the requirements of its customers. We have a secure capital base and great financial stability. At 21.3%, the equity ratio of GRAWE AG also increased again in 2017. The solvency ratio of GRAWE AG as of 31.12.2017 of 328% not only shows the overachievement of the statutory provisions but also the stability that has always been a shared value at GRAWE.
We shape diversity.
GRAWE employs more than 4,600 staff in 13 Central and Eastern European countries and thus brings together a host of different fields of expertise, languages and cultures. In the 2017 financial year, the GRAWE Group generated pre-tax profits (result from ordinary activities) of EUR 160.3 million, which corresponds to an increase of 2.0% compared to the previous year. Premiums written of GRAWE Group increased by 4.1% and reached a figure of EUR 847.5 million. Around 35% of the total income from premiums was generated by the GRAWE insurance subsidiaries in Central and Eastern Europe.
We shape growth.
In the past financial year, GRAWE has once again demonstrated its courage to change and grow. Merkur Montenegro was acquired in Montenegro and VGT Visoko in Bosnia and Herzegovina. Both companies have since been fully integrated. GRAWE has also grown through its own development. At the start of 2017, GRAWE Asigurare Romania commenced offering motor insurance and has already generated pleasing results on the market. The GRAWE banking group has also given an impressive demonstration of its innovative strength with the start of DADAT Direktbank.
The financial year 2017 at a glance
In 2017, pre-tax profits (result from ordinary activities) of GRAWE AG increase by 2.6% to EUR 59.7 million.
As of 31.12.2017, GRAWE AG posts a solvency ratio (Solvency II) of 328%
GRAWE equity ratio (21.3%) also increased again in 2017
Result from ordinary activities of the GRAWE Group increases by 2.0% compared to the previous year to EUR 160.3 million
In 2017, GRAWE employs more than 4,600 people in thirteen Central and Eastern European countries
Photo: Mag. Klaus Scheitegel, General Manager of GRAWE and Dr. Othmar Ederer, Chairman of the Board of GRAWE-Vermögensverwaltung (© GRAWE/Ralph König)
---
Enquiries:
Mag. (FH) Karin Taferner-Bauer | Head of Corporate Communication and Marketing | Grazer Wechselseitige Versicherung AG Tel.: 0316/8037-6430 | E-mail: karin.taferner-bauer@grawe.at